Seoul, South Korea
CNN
—

At least eight people were killed in Seoul on Monday after record rains flooded homes, streets and subway stations in the South Korean capital, cutting off electricity and forcing hundreds to evacuate, authorities said.
South Korea's Interior and Security Ministry said three of the dead were trapped in a flooded semi-basement. Nine others were injured and at least seven people are still missing, the ministry said.
A total of 422 millimeters (16 inches) of rain has fallen in parts of Seoul since midnight Monday local time, prompting authorities to issue the highest Level 3 emergency alert. The city recorded 141.5 millimeters (5.57 inches) of rain per hour — the highest rate on record by authorities.
Photos from across the city show severe flooding, with people wading the streets up to their thighs in water.
Although the floodwaters had largely receded by Tuesday morning, cars and buses remained scattered along roads and sidewalks, blocking morning traffic.
Drains were backing up in some parts of Seoul, allowing water to flood back into the streets and subway stations, according to the Seoul Metro. A number of subway stations were closed due to flooding, with lines temporarily suspended on Monday evening. As of Tuesday morning, authorities were still working on reopening the stations.
Several regions south of the Han River were hardest hit, including the affluent, modern Gangnam area, where some buildings and businesses were flooded and power was lost.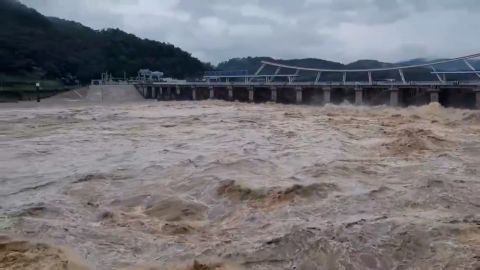 About 800 residents were evacuated to schools and gyms or voluntarily sought shelter in local community centers as the flooding affected more than 700 homes and businesses, authorities said.
South Korean President Yoon Suk Yeol offered his condolences to the victims Tuesday and said he would conduct an on-site inspection and work to prevent further damage.
He also pointed to the need to review the country's disaster management system as extreme weather events would become more frequent due to the climate crisis.
Many countries in East Asia are now experiencing more intense daily rains, with summer monsoons projected to become heavier and more erratic as the earth warms, according to the Intergovernmental Panel on Climate Change.
It is expected to continue on Tuesday with up to 100 millimeters of rain per hour in some regions, according to the country's Meteorology Administration.
parts of Japan Downpours continued Monday evening, with some regions of Hokkaido reporting flooding – but no injuries as of Tuesday. Authorities are warning of flooding and landslides.