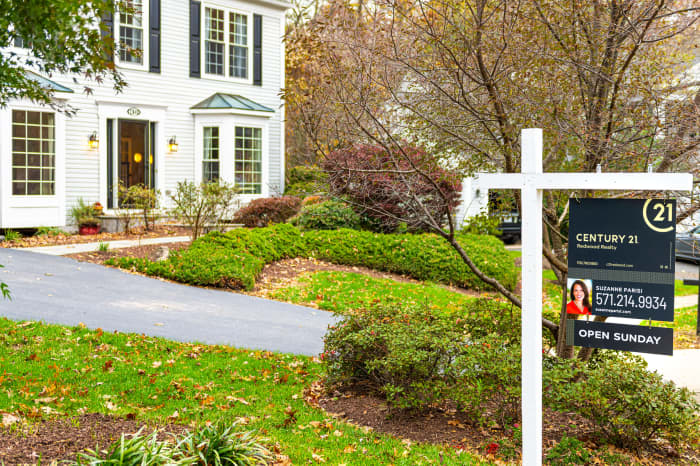 Buyers in some markets are already getting – or could soon get – some relief in the form of lower home prices, pros say. Already in the last 4-8 weeks, experts have noticed downward price pressure in previously robust higher-priced markets. (Check out the lowest mortgage rates you can get right now.) "These were markets where the average sale-to-list price ratio was well over 5% above list price, and examples include San Francisco, San Jose, Austin, Denver, and Seattle," says Chris Stroud, co-founder and Research Director at HouseCanary, a technology-enabled national brokerage firm providing residential property analysis.
All of the cities listed above saw their respective median closing prices fall fairly quickly in July and August as buyers no longer had to engage in bidding wars or bid to be competitive. "Mean closing prices have mostly stabilized in these markets for the past few weeks as excesses have been worked out of the system," Stroud says.
The markets with the highest proportion of price cuts in Realtor.com's July data are primarily in the Sun Belt and include Las Vegas, Phoenix, Austin, Sacramento, Denver, Portland, Dallas-Fort Worth, Nashville, Tampa and San Diego.
See the lowest mortgage rates you can get here right now.
Where will we see house price drops in the future?
The same markets could see further declines, says George Ratiu, senior economist at Realtor.com. "As we look to the next few months of rebalancing, we can expect these markets to feel increasing pressure on list prices as seasonal trends take deeper root and buyer traffic makes waves from the peak of summer."
For their part, a team of Goldman Sachs strategists said that western metropolitan areas are more likely to experience a price correction, and this is "particularly true in markets with low housing affordability, such as Seattle, San Diego and Los Angeles. " "
Longer term, price declines will depend in part on where inventories rise rapidly and excessively in conjunction with interest rate-driven demand suppression, experts say. "At the beginning of the rate increase phase, most markets experienced record low inventories. So far, this environment has prevented large price falls in many areas of the country," explains Stroud, who notes that this could change.
Check out the lowest mortgage rates you can get right now.
Markets with a particularly large influx of out-of-staters — places like Boise, Denver and Salt Lake City — could be more vulnerable to price declines as the shift to remote work is largely complete, says Kate Wood, home expert at NerdWallet. "It's a double whammy for home sellers as the influx of well-funded out-of-states has dried up and many residents are now overpriced. With persistently high home prices, these markets are still a long way from being buyer-friendly, but sellers probably shouldn't expect the bidding wars and no-obligation offers that have spread over the past two years," says Wood.
As housing markets decline in the wake of higher mortgage rates, prices and inflation, some of those markets are finding that they have growing volumes of inventory and not enough buyers, Ratiu says. "For sale-motivated homeowners, the answer is increasingly old-fashioned – price cuts. Even as average list prices continue to rise — the result of homeowners setting house prices based on market data months ago — growing inventories and shrinking buyer traffic are beginning to put downward pressure on prices," Ratiu says.
The advice, recommendations or reviews in this article are those of MarketWatch Picks and have not been verified or endorsed by our trading partners.